Top real estate deals of Bonaire
The best lots, properties and commercial rentals
Top real estate deals
A selection of the best real estate deals on Bonaire
Netherlands Antilles (Dutch Caribbean).
For sale - Corner lot for sale at Kaya Lima, Belnem (free hold land) by Bonaire Solutions. Situated in a quiet neighborhood near Kralendijk.
Commercial rental - Office space and storage warehouses for rent in Kralendijk. Kaya Industria at Siewink Business area Bonaire.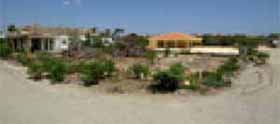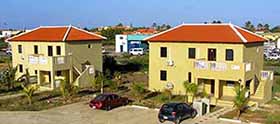 Lot size: 768m2 / 8,267 sq.ft.
Te huur, kantoorruimte en garageboxen
Listed: US$72.500
Bedrijfsruimte en opslag
There is great change in the air in Bonaire when it comes to real estate. Real estate has become a top priority, offering a wide variety of homes, villas, lots and seafront properties for sale. There's real estate available from remote empty country sites to the grand villas and homes around the town and along the seashore.
The most amazing hotels and condos have sprung up along the seashore. Land has become more valuable than ever and the prices for these villas, homes and lots, were unthinkable only a decade ago. Little did the residents of the 50's and 60's dream of this immense growth in real estate.
Driving around Bonaire there are numerous site of homes and apartment complexes in various stages of completion. In the 1950's, land out in the countryside went for as little as 25 cents an acre. Old families with huge land holdings sold off their land piece by piece at those beginning low prices and then saw the price of the land go up as it turned into very valuable real estate. With each exchange of hands, realtors drove the prices higher and higher.
Undeveloped seaside property is almost non-existent today. And the price of any seaside real estate is astronomical. While the economy is slow right now in more places than Bonaire, realtors are confident of the continued development and the return of investment to be made in the real estate of Bonaire. Apart from Bonaire's thriving tourist industry, due to its reputation as one of the five best dive centers in the world, more and more people are buying these hotel apartments and luxurious villas if only for their use part time in the year.
If you are looking for an investment or a fabulous home or villa in the Caribbean, the real estate market of Bonaire has a great deal to offer!